Tuesday, November 5th, 2013
Interactive Reporting allows users to get more detailed information on employee Web use by clicking a report's elements. For example, from a high-level report such as Site Analysis, you can click an ID name, and a User Audit Detail report will automatically begin running on that user.
Interactive reports are delivered to recipients via a link in a report e-mail. A password is needed to retrieve the reports because they are password protected. The default password is "password;" however, this can be easily changed.
Go to the Advanced Settings – Report Settings – Interactive Reports screen.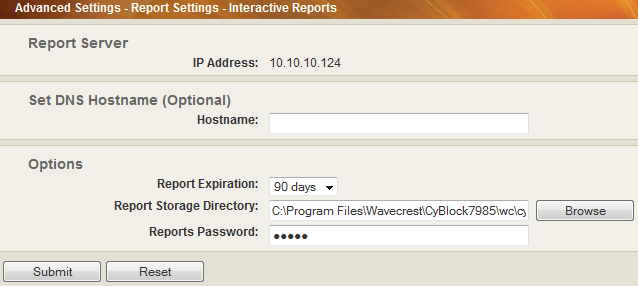 In the Reports Password field, type the new password that you want to use.
Click Submit.
When an Interactive report is sent via e-mail to a recipient, the recipient will receive a link (or two links depending on server settings) to the report.
To open the report, click the appropriate link. A screen is displayed to enter a password to retrieve the report.

Type your new password and click Login.
After the report is opened, click an ID name to get more details on a user's Web activity. By clicking the ID name, a request is submitted to get a User Audit Detail report on that particular user, and the report for that user is displayed.
For additional assistance, please contact Technical Support at (321) 953-5351, Ext. 4 or support@wavecrest.net.