It is holiday shopping time again! Cyber Monday is now more like Cyber Month!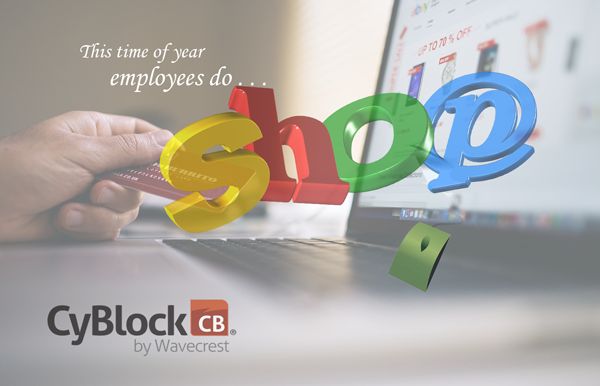 With Thanksgiving right around the corner, we all know what is coming–Cyber Monday–the big day (now it is more like a month!) for personal employee Web use! More than ever before, businesses are open to employee use of the company Internet for personal use such as snagging some holiday deals. But what does this really mean for daily business operations? That depends.
There are definitely cyber risks associated with the season of shopping–malicious ads, phishing e-mails with malicious Web links, and slow bandwidth, to name a few. Paying attention to your employees' Web usage is crucial. It is up to you whether you allow shopping on your network. If you do, there are steps you should take to manage this naturally vulnerable human endpoint.
Filter

Filtering allows you to reduce risks from malicious URLs in ads, phishing, etc. . . .

employees are your weakest link

. Train them continuously but also make sure there is a Web filtering solution in place to allow you to manage the Web use the way you see fit.

Manage Bandwidth Usage

This time of year employees may be doing things such as watching a video review of the latest in tech toys for their kids. Make sure your mission-critical operations are not affected.

Configuring bandwidth limits by user-defined thresholds and setting trigger alerts

will help you make sure you don't have unnecessary bandwidth hogs slowing your business down.

Monitor Web use

Visibility means everything

. With the right monitoring solution, you can easily analyze employee Web-usage trends, make sure your Acceptable Use Policy (AUP) is being followed, and get actionable, relevant detail when you need it.
These are only a few of the things that you can do to help reduce the risks associated with employee Web use all year long. Remember that human vulnerabilities are a leading cause of most network breaches. Focus on the human endpoint. Take the time to keep training employees, enforcing your AUP, monitoring, analyzing, and filtering.
At this time of year, you can feel good about allowing your employees some freedom to research or snag some holiday gift deals. Have a comprehensive employee Web filtering and monitoring solution in place, and enjoy your holidays even more knowing you are proactively managing employee Web activity!
About Wavecrest
Wavecrest has over 20 years of proven history of providing reliable, accurate Web-use management and Advanced Log File Analyzer products across various industries. Managed Service Providers, IT specialists, HR professionals, Forensics Investigators, and business managers trust Wavecrest's Cyfin and CyBlock products to manage the human factor in business Internet usage — managing cloud services, reducing liability risks, improving productivity, saving bandwidth, and controlling costs. Trusted by large government and commercial organizations such as US-CERT Homeland Security, U.S. Department of Justice, USPS Office of Inspector General, National Grid, Johns Hopkins, and a growing list of global enterprises and government agencies. We are a proud long-term GSA contract holder. For more information on the company, products, and partners, visit https://www.wavecrest.net.
Tags: bandwidth, bandwidth consumption, bandwidth management, control employee web activity, cyber monday, cyblock, employee productivity, internet filtering, internet monitoring, malware, online shopping, safe search, web filtering, web security, web-use reporting